International Cooperation | NEVC signed a Memorandum of Understanding with Imperial College London

中国网讯 2020年10月22日,国家新能源汽车技术创新中心(简称"国创中心")与英国帝国理工学院(简称"帝国理工")在山东省淄博市举行合作备忘录签约仪式。双方将秉承合作、开放的原则,共同探索新能源汽车领域的深度合作,通过国际和国内地方优质资源的整合,建设国际化先进技术创新中心,吸引高新技术创新人才与资本投入,实现技术成果转化和产业项目落地。
On October 22, 2020, the National New Energy Vehicle Technology Innovation Center (referred to as "NEVC") and Imperial College London (referred to as "Imperial College") held a memorandum of understanding signing ceremony in Zibo, Shandong Province. The two parties will adhere to the principles of cooperation and openness to explore a collaboration in the field of new energy vehicles, through the integration of international and local high-quality resources, to build an international advanced technology innovation center, attract high-tech innovative talents and capital investment, and realize the translation of technological achievements and the implementation of industrial projects. Mr. Chengyin Yuan, Director and General Manager of the National Innovation Center, and Mr. Jianguo Lin, Academician of the Royal Academy of Engineering and Professor of Imperial College attended the signing ceremony.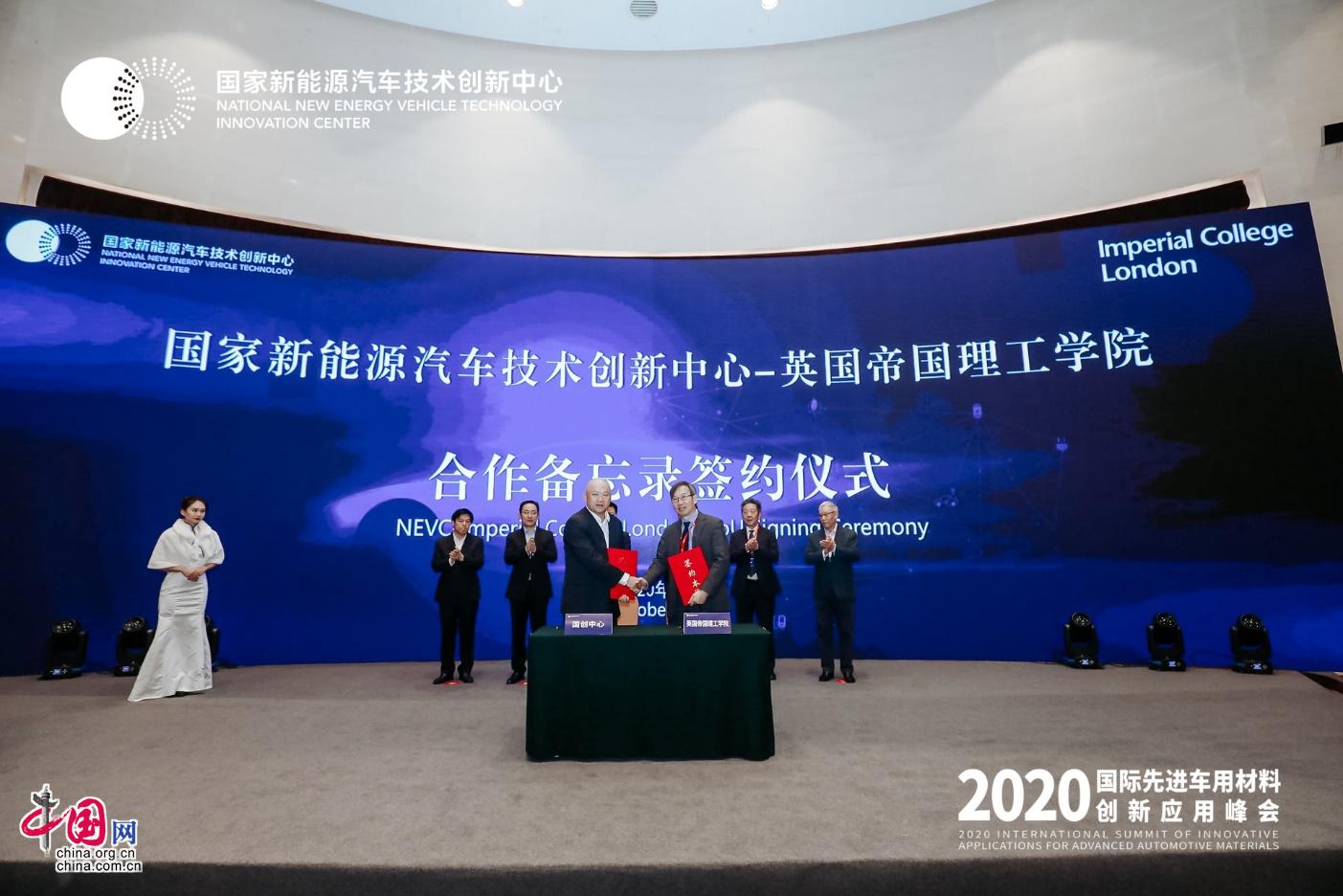 (国家新能源汽车技术创新中心总经理原诚寅、英国皇家工程院院士兼英国帝国理工学院教授林建国签约合作备忘录)
经过多轮合作探讨,国创中心与帝国理工达成校级合作意向,双方同意在中国新能源乘用车和商用陆地车辆领域内合作,旨在与国创中心设立的创新中心建立联合技术研发和创新项目,先期在轻量化材料、氢能与燃料电池方向开展合作,探索新能源汽车行业内"卡脖子"技术的优质技术成果转化方案。
After multiple rounds of discussion, NEVC and Imperial College London reached a school-level cooperation intention. The two parties have agreed to cooperate in the field of new energy passenger vehicles and commercial land vehicles in China, aiming to set up joint technology R&D and innovation programmes with Innovation Centers set up by NEVC. The initial plan is to cooperate in the fields of lightweight materials, hydrogen energy and fuel cells with the goal of exploring the translation of high-quality technological achievements in the new energies' automobile industry.
双方的合作内容将主要集中在中国与英国的思想交流、专业知识的交流与培养,与创新中心建立研发和创新项目,举办新能源汽车技术创新拉力赛,通过在中国的创新中心孵化器培育来加速创新,以及其他潜在的合作以吸引更多的投资,与国创中心知识产权共享平台合作等。
The collaboration between the two parties will mainly focus on the exchange of ideas and fostering Chinese and British expertise and insights, establishing R&D and innovation programs with Innovation centers, holding New Energy Vehicle Technology Innovation Rally, accelerating innovation through incubator provision at the Innovation Centre in China, potential cooperation on attracting additional investment and fundraising, cooperation through NEVC's intellectual property sharing platform, etc.
英国帝国理工学院:建校已有百年历史,是国际学术界具有顶级声望,是世界最具创新力的大学之一,研究地位被公认为英国大学的三甲之列。
Imperial College London has a history of over 100 years. It is one of the most innovative universities in the world with top reputation in the international academic community. Its research standing means Imperial is recognized as one of the top three universities in the UK.
国家新能源汽车技术创新中心:科技部批复的汽车行业唯一的国家级技术创新中心。国创中心围绕智能网联、燃料电池、动力电池、电驱动、电子电控、轻量化、混合动力、前瞻技术、整车集成九大技术研发方向,通过开源整车技术开发、前沿技术检测验证、知识产权共享、创投孵化四大业务平台建设、实现技术研发与能力建设的融合发展。
NEVC is the only national technology innovation center in the automotive industry approved by the Ministry of Science and Technology. NEVC focuses on the nine major technology R&D areas of intelligent networks, fuel cells, power batteries, electric power systems, drive, electronic control, lightweight, hybrid power, forward-looking technology, and vehicle integration. NEVC realizes the integrated development of technology R&D and capacity building through the construction of four major business platforms: open source vehicle technology development, cutting-edge technology testing and verification, intellectual property sharing, and venture capital incubation.